This is BOEKIE WOEKIE, books by artists. If you have come straight to this page thanks to a search engine, click here to be taken to the Boekie Woekie home page where you can find links to our entire stock of artists' books and information about our shop/gallery.

NEW ITEMS, the ± 150 items, most recently added to our stock:






As from Feb. 2nd, 2019 this page will no longer be updated. New books and other new items for sale in Boekie Woekie are now added to the shopping cart website www.boekiewoekie.com. Though some prices on this page may have changed, most of what is listed here is still available. Please mail your order or question to boewoe@xs4all.nl.





Lilley, Lynn Alleva

Tender Mint

a photobook containing images that the artist made while she lived with her family in Amman, Jordan during 2011-2014, the quite astonishing photographs are divided into chronological chapters and depict mostly animals and people and express 'conflicting emotions such as nurturing and pain, suffering and resignation, solitude and companionship and beauty and decay.' the book contains two poems by Samih al-Quasim and Jane Hirshfield as well as two anecdotes by the artist, printed with full-colour offset and has a soft, linen cover, 29,5 x 20,5 cm, 144 not numbered pages, ed/750, Breda 2017

EUR 32.-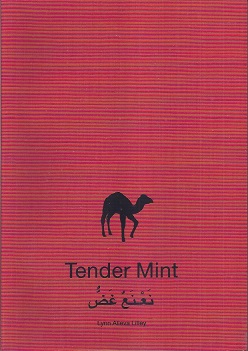 Lilley Tender Mint
Ting, Cheng
Baker Salon
photographs of people with their backs facing the camera, they're all wearing braided hairstyles with braided bread buns attached to their hair, beautiful and simple photos that focus on texture and patterns, includes a recipe of the aforementioned braided bread, printed on glossy, really thick paper, 18,5 x 14 cm, 34 not numbered pages, ed/500, Taipei 2016
EUR 20.-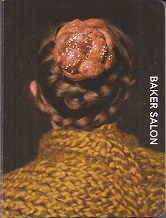 Ting Baker Salon

Sauter, Fritz
See My Friend
screen printed drawings on thick paper in a concertina format between two painted and printed wooden covers, the drawings show idiosyncratic and friendly characters, blotches of colour are used in a really nice way, they spark life into the friends, the small amount of text is in German, concertina format: folded 16 x 10 cm, unfolded 16 x 111 cm, no.30, ed/60, signed, Dugort 2014
EUR 92,00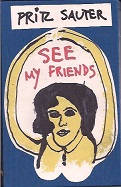 Sauter See My Friend

Thurairajah, Geetha
To Shape A Sword
digital drawings that could be referred to as collages, smooth, yet hard edged shapes that compose magical, tropical images that seem familiar but are still very original in composition and appearance, the drawings were created as sketches or preliminary drawings for the artist's paintings, 'Thurairajah's artworks simplify narrative into a language of icons; flat and hard edged, her symbols push the real into the impossible.'
stapled, 23 x 15 cm, 16 not numbered pages, ed/250, Toronto 2018
EUR 12.-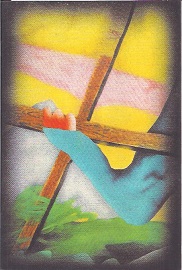 Thurairajah To Shape A Sword
Perry, Leanna
Raindrops & Broken Hearts
elaborate, graphic drawings in pink and black or toxic green and black that form pages of irregular patterns with sentences in adorned font, the risograph-printed drawings are inspired by 2000's teen culture and explore 'dark nights and complicated relationships. Hard-edged, metal objects such as barbed wire and chain link fences are embedded within a delicate and soft emotional landscape of flowers, hearts and faux eyelashes.' an impressive whirlpool of nice details and references, stapled, 16 x 11 cm, 48 not numbered pages, New York 2018
EUR 16.-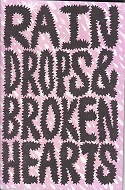 Perry Raindrops & Broken Hearts

Yang, Shania
Queer A B C
risograph-printed drawings that depict different people in poses that resemble each letter in the alphabet, each picture is queer-themed in one way or the other like the title indicates, the playful and original drawings are printed with purple on light yellow paper, on the page in the middle one can see an overview of the whole alphabet, stapled, 20,5 x 13,5 cm, 28 not numbered pages, New York 2016
EUR 16.-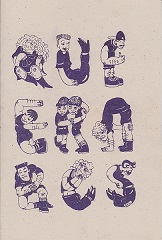 Yang Queer A B C

Campbell, Brian Scott (Ed.)
Zing Zang Blunder
on the occasion of an exhibition with the same title at Harbinger in the summer of 2017, featuring 24 artists from Iceland and the U.S., the catalogue contains reproduced drawings by some of the artists and poems by Chris Hutchinson, the whole catalogue is printed in blue on white rather thick paper, soft cover, 19 x 14 cm, 32 pages, numbered ed/150, Reykjavík n.y.
EUR 19,50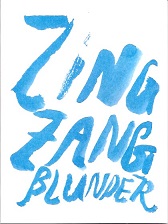 Zing Zang Blunder


Haring, Joop
The Organic Square
″La Plata – The Argentine Project″, many photographic illustrations in colour from La Plata's urban grid to the "ants' highway" in the Paseo del Bosque park and texts in Dutch and English by the artist, Teja van Hoften and Ronald Ruseler which deal with thoughts provoked by the square, and the artist's sculptural objects resulting from these thoughts, hard cover, 25 x 21,5 cm, ed/125, n.p. n.y.
EUR 24,50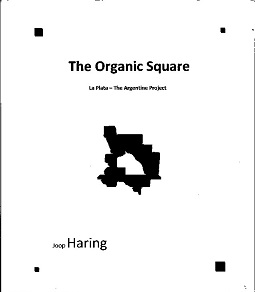 Haring The Organic Square

Kessels, Erik
Shit (Scheisse)
found photographs of soldiers taking their shit at war time ad hoc or under improvised circumstances, an aspect of war one does not often think about, but daily life has to continue despite all, the photos are in different sizes and formats, one photograph per two pages, with a brief text in English, hard cover, 23,5 x 17 cm, 106 not numbered pages, Paris 2018
EUR 38.-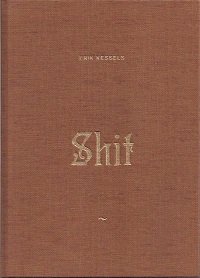 Kessels Shit (Scheisse)
Iannone, Dorothy
Die Peitsche The Whip
a declaration of a slave addressed to its master, the Emperor Bastian de Bock, on his 39th birthday that provides insight into their relationship, text in German and English, translated into German by W. Teichmann, soft cover, 15 x 10,5 cm, 64 pages, ed/700, Berlin 1980
EUR 26.-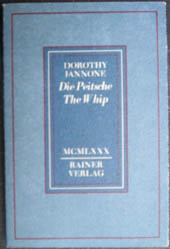 Iannone The Whip Die Peitsche

Deér, Katalin
Verde
beautiful photographs of buildings and places reproduced on delicate paper, often the same subject captured from different angles and in various seasons, the photos are taken by the artist over the last ten years in the Val Bregaglia in Switzerland, there are several photographs on every page and one really catches the buildings' 'unique presence in a landscape that is continuously moved and shaped by time and the forces of nature.' soft cover, 31 x 23 cm, 196 not numbered pages, St.Gallen 2018
EUR 34.-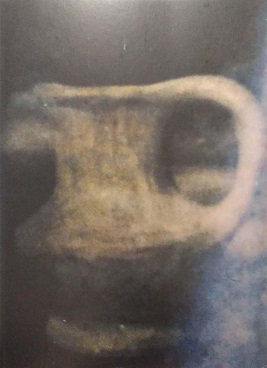 Deer Verde

Galler, Thomas
Walking Through Bagdad With Buster Keaton Face
volume 3 in the paperback series fink twice, a reprint of a publication with the same name that was published in conjunction with the artist's solo exhibition at the Kunsthaus Aargau in 2009, there are photographs from that exhibition in the book depicting more than thirty different works, alongside there is some reference and research material like photographs of Heath Ledger and photos from inside the White House, includes a written conversation between the artist and Hilde Teerlinck and texts by Madeleine Schuppli and Margrit Tröhler, a vast, well designed book where all the content is in b/w, soft cover, 21 x 16,5 cm, 174 pages, Aarau 2014
EUR 21.-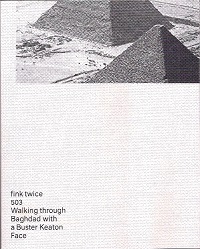 Galler Walking Through Bagdad With Buster Keaton Face

Keller, Daniel
For A Fish Tank Or A Parking Lot
"In his work, Keller examines connections between materials and materialities, architecture and architectural elements—in the real world as well as in models.FOR A FISH TANK OR A PARKING LOT is simultaneously a work of research, collection, and fiction. Keller researches the ecological and cultural significance of gravel and sand, which play a major role in the composition of the earth's surface, at least in our latitudes, as valuable resources and important components of concrete. A photographic collection of pebbles—printed on almost translucent paper—forms the grid-like, even rigid structure of the book. With a focus on the different shapes and surfaces of the individual stones, the anonymous mass of this basic material of our built environment dissolves into countless individuals", soft cover, 27 x 21,5 cm, 512 pages, St. Gallen 2018
EUR 39.-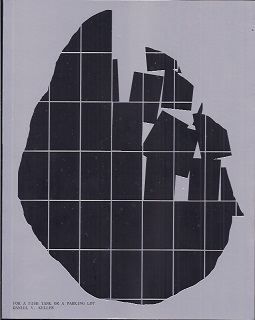 Keller For A Fish Tank Or A Parking Lot

Binnerts, Annabelle
Atlas Van De Geheele Aarde
a complete hand-drawn atlas, 'the maps are all traced in such a way that the names remain in an attempt to focus on the way we use language to understand our (unknown) surroundings', nice, delicate drawings and a fresh approach to the concept of maps, soft cover, 28 x 21 cm, 76 not numbered pages, includes a loose sheet with a poem in English by Maria Barnas, written in response to the book, n.p. 2018
EUR 27.-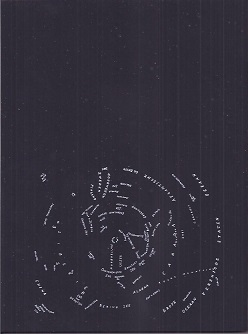 Binnerts Atlas Van De Geheele Aarde

Finnbogadóttir Hjörvar, Geirthrudur
Mind Games
"A quadrangled story about shades and variations in co-dependence and sovereignty, inspired by a musician (John Lennon), a theorist (Henri Lefebvre), an author (Halldór Laxness) and a demented ruler of Rome (Caligula). Mindgames is constituted by four parts – ordered in alternating sequence – to form thirteen chapters in total. Each of the four sections holds a biographical account of its subject: Caligula, Henri Lefebvre, John Lennon and Halldór Laxness. The chapters can be read separately, as they have been conceived to be independent wholes, forming biographies that present portraits of associations rather than particular statements about individual lives. The text, however, is constructed to alternate rhythmically between the main motives. The motives in turn produce variations on particular themes as they modulate into different parts within the totality of the work as a whole. Mindgames was conceived as a way to enjoy information in the tradition of autodidacts of the past – but in a style which is commingled with a reverence towards traditional modes of archiving the world.", soft cover with dust jacket, 17 x 12 cm, 152 pages, (Arnhem) 2012
EUR 16,50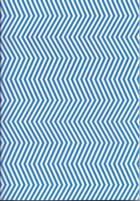 Finnbogadottir Hjorvar Mind Games
Horst, Els ter
Broekenboek
a story about Paulien, a girl that doesn't find any pants to wear, different types of pants are listed on each page and the reason why they are not wearable, worn by different drawn characters, the pants area is cut out from the pages in order to reveal all kinds of real fabric, a clever and simple book, text in Dutch, hard cover with fabric texture, 21,5 x 15 cm, 28 not numbered pages, limited edition, Amsterdam 2017
EUR 59.-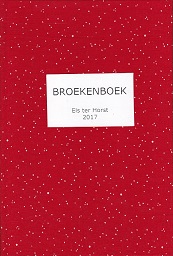 Horst (Els) Broekenboek


Kauth, Johann (Ed.)
Destination Earth
on the occasion of an exhibition with the same name at Het Bos in Antwerp, Belgium in May 2018, with works by Adam Hartnell, Bram van Meervelde, Chris Gillis, Frederik Lizen, Johann Kauth, Joris de Rycke, Kristy Fenton, Rufus Michielsen, each artist contributed 10 pages of content that includes drawings, photographs of ceramics and graffiti, collages, prints and more, all printed in b/w on glossy paper, soft cover, 28,5 x 20,5 cm, 80 not numbered pages, numbered/100, 2018
EUR 19.-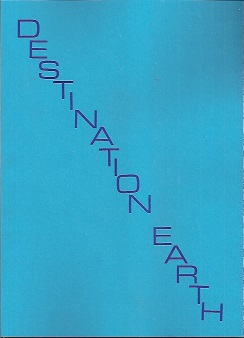 Kauth Destination Earth
Treacy, Tricia
Swatch Book - Slot
contributions from 19 people with different backgrounds working at the American Academy in Rome that were asked to reflect with their work on the theme privacy in 2018, 'their contributions have been juxtaposed and interwoven to create random connections and an unconventional visual narrative', drawings, texts, musical scores, photographs and more (all in b/w) printed with risograph on different types on paper, some that is slightly transparent and every page is folded which creates an interesting effect on the whole book, soft cover, 20,5 x 13,5 cm, 122 not numbered pages, n.p. 2018
EUR 49.-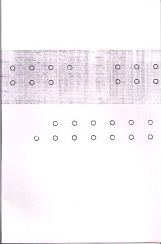 Treacy Swatch Book


Whang Tahee
Cicada Soup

a prose about cicadas and their potential therapeutic abilities accompanied by weird and wonderful drawings and a few photographs, risograph-printed in dark cyan, stapled, 19 x 13,5 cm, 16 not numbered pages, New York 2017
EUR 16.-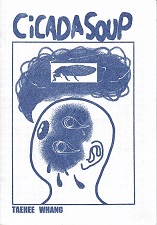 Whang Cicada Soup
Moonen, Mike

Autopilot
b/w pen drawings, the title might be indicating the concept that the pages show scribbles that one might do without thinking to much about it, the stream of the subconscious mind, there is at least a nice flow through the book of strange and original drawings, stapled, 20 x 14,5 cm, 32 not numbered pages, n.p. n.y.
EUR 15.-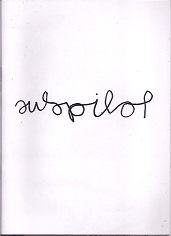 Moonen Autopilot

Shiomi, Yuna
Pearl Life 2
short, illustrated diary entries from a three months period in the artist's life, first with focus on food and friends and then on the first weeks of her pregnancy, really beautiful and subtle texts that radiate positivity and appreciation for daily life, with the leading theme of being in a new country and learning a new language, along the drawings there are a few photographs that illustrate the texts, stapled, 21 x 14,5 cm, 44 pages, n.p. 2018
EUR 10.-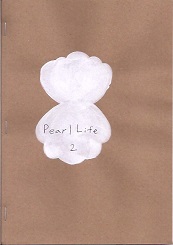 Shiomi (Yuna) Pearl Life 2