This is BOEKIE WOEKIE, books by artists. If you have come straight to this page thanks to a search engine, click here to be taken to the Boekie Woekie home page where you can find links to our entire stock of artists' books and information about our shop/gallery.

NEW ITEMS, the ± 150 items, most recently added to our stock:
(last updated September 30th, 2018)



Whang Tahee
Cicada Soup


a prose about cicadas and their potential therapeutic abilities accompanied by weird and wonderful drawings and a few photographs, risograph-printed in dark cyan, stapled, 19 x 13,5 cm, 16 not numbered pages, New York 2017

EUR 16.-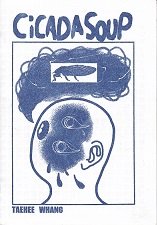 Whang Cicada Soup
Moonen, Mike

Autopilot
b/w pen drawings, the title might be indicating the concept that the pages show scribbles that one might do without thinking to much about it, the stream of the subconscious mind, there is at least a nice flow through the book of strange and original drawings, stapled, 20 x 14,5 cm, 32 not numbered pages, n.p. n.y.
EUR 15.-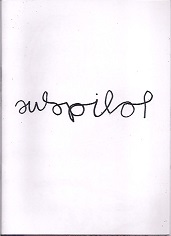 Moonen Autopilot

Shiomi, Yuna
Pearl Life 2
short, illustrated diary entries from a three months period in the artist's life, first with focus on food and friends and then on the first weeks of her pregnancy, really beautiful and subtle texts that radiate positivity and appreciation for daily life, with the leading theme of being in a new country and learning a new language, along the drawings there are a few photographs that illustrate the texts, stapled, 21 x 14,5 cm, 44 pages, n.p. 2018
EUR 10.-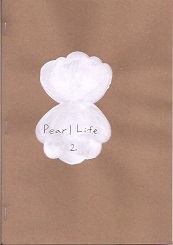 Shiomi (Yuna) Pearl Life 2
Önnudóttir, Steinunn
Expressjónismi
reproduced watercolour paintings in hazy shades of blue, the subject matter is portraits from the yearbook of the Danish theater productions in the winter of 1955-56, the details of the paintings are in the expressions of the persons and then the image gets blurry around the face so they get a bit absurd and really wonderful, stapled, 29 x 20 cm, 24 not numbered pages, Reykjavík 2018
EUR 26.-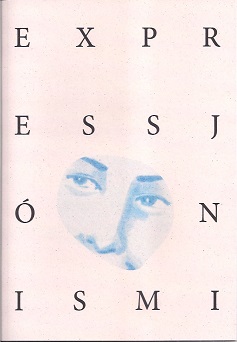 Önnudóttir Expressjónismi
Laas, Kulla
Looking For A Place To Find
collages made out of old photographs on glossy paper, put together in a simple but smart way, really nice compositions and a beautiful colour palette and textures, stapled, 21 x 15 cm, 16 not numbered pages, Reykjavík 2018
EUR 13.-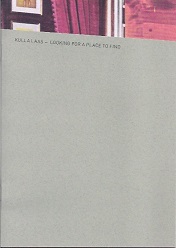 Laas Looking For A Place To Find

Whang, Tahee
If You Go Now When Will You Return
digital collages where the artist intertwines drawings, found imagery, stills from movies, texts and more in order to speculate about the tiger and its skin as a Korean icon or metaphor, interesting riso-printed compositions, stapled, 20,5 x 13,5 cm, 20 not numbered pages, New York 2017
EUR 16.-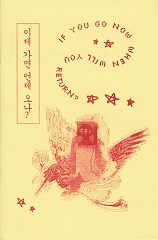 Whang If You Go Now When Will You Return
Malone, Andrew

The Farm A Ladybird Book
an altered book, the text around the illustrations is throughout the book for a good part cut away, a simple but beautiful work, hard cover, 18 x 12 cm, signed,
EUR 78.-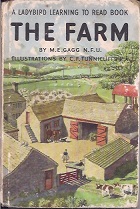 Malone The Farm A Ladybird Book


Moore, Joseph
73.128.245.60/Labor
a 24 hour photo diary of a small stable where a mother horse gives birth to a foal, the photographs (which are 10 per page) of this significant event give a feeling of claustrophobia and even uneasiness, the artist was inspired by the French physiologist Étienne-Jules Marey in the format and setup of the photographs, the b/w photos are taken from an unsecured IP camera, stapled, 27 x 21 cm, 24 not numbered pages, New York 2018
EUR 29.-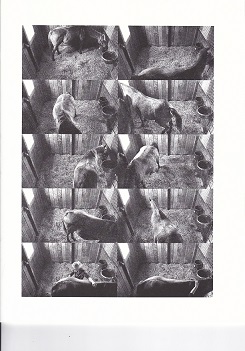 Moore 73.128.245.60 Labor

Coleman, Hannah
Blobs Get Dressed
wonderful risograph-printed drawings of confused blob-like characters trying to get dressed with their own unconventional logic in an adorable way, smooth lines and moderately coloured pictures, teaches one to seek new solutions, spiral bound, 27 x 21 cm, 18 not numbered pages, New York .n.y.
EUR 24.-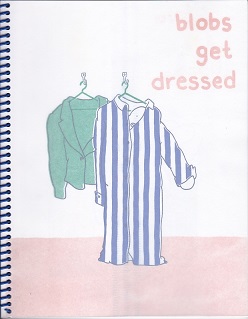 Coleman (Hannah) Blobs Get Dressed




Espadina, Dennis Munoz
Stoel & Dans
big scale risograph printed images where, among other things, photographs of old, classical sculptures are juxtaposed with photos of people in similar poses to the ones of the statues, really interesting choice of pictures that are either in b/w or colour and the risoprint brings out beautiful textures in them, 44,5 x 31,5 cm, 26 not numbered pages, numbered ed/30, n.p. n.y.
EUR 160.-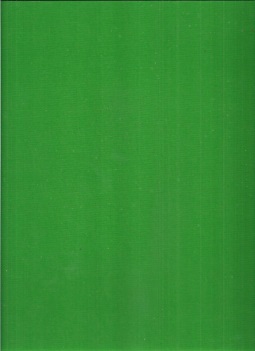 Espadina

Stoel & Dans
Siegler, Cory Emma
Infinite Snakes
patterns inspired by snakes created with letters and signs in a Google Docs document in a repetitive manner, an interesting similarity with textile works, the drawings are four colour risoprinted, spiral bound, 27 x 21 cm, 18 not numbered pages, New York .n.y.
EUR 24.-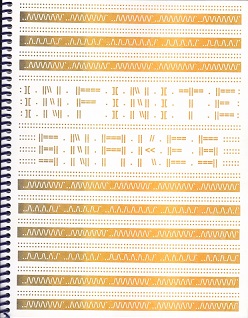 Siegler Infinite Snakes
Gris, Fernando
Manual Vague
the content of six cahiers that were given to the artist in an antique book store in Paris, the texts contain thoughts, fragments and more structured narrative that form prose that could be read as alternative short stories, both the stories and the foreword are really amusing and in a sense magical, the elongated format of the book suits the content well, Japanese binding, 37 x 15,5 cm, 30 not numbered pages, n.p. n.y.
EUR 20.-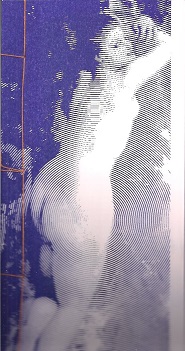 Gris Manual Vague

Garcia, Danielo
Office Workers Notebook
old photographs of people working in offices from advertisements, stock-photos etc. that the artist found in the archive of the New York Public Library, the pictures are collaged on ruled paper in a Steno notepad design, spiral-binding, 26,5 x 20 cm, 80 not numbered pages, N.Y.2016
EUR 35.-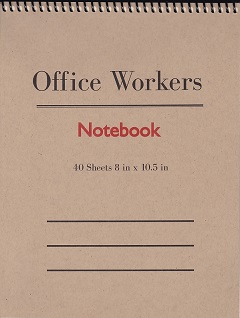 Garcia Office Workers Notebook
Hacking, Winston
No Sweat!
risograph-printed collages that form a 'scrap book of rejected or unused designs for music videos over the last two years', the collages are fairly unusual but quite impressive and playful with a wide range of subject matter and many interesting details, sewn, 23 x 16,5 cm, 44 not numbered pages, Toronto 2018
EUR 19,50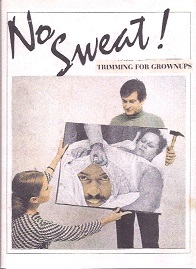 Hacking No Sweat!
Rens, Chantal
Various Animals
photographs of various animals on glossy, thick paper (the type that is often used in books for very young children), the photos have been edited so the animals have been given a new eye or set of eyes, a small change that gives the pictures a whole new touch, the regular animals become different characters, hard cover and pages, 14 x 10 cm, 12 not numbered pages, numbered/500, 2018
EUR 34.-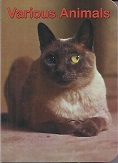 Rens Various Animals
Pigford, Ashley John + Tricia Treacy (Eds.)
The Phonografik Collectivo
contributions by 17 artists that were given 1 phoneme (sound) per person to create their artworks from, the graphic expression, name and pronunciation is stated for each phoneme, 'Through the project we intended to create and exchange original, experimental typographic/hand-lettered/calligraphic artworks as contemporary translations of the common phonemes that unite many of our world's phonographic languages, represented by the Phoenician alphabet.' a little biography of each artist is in the end of the book and a few sentences about their process in making the artworks, the book is printed with risograph and digital press, the over is made with letterpress, every copy is hand bound in an elaborate design, soft cover, 24,5 x 15 cm, 60 pages, n.p. 2016
EUR 34.-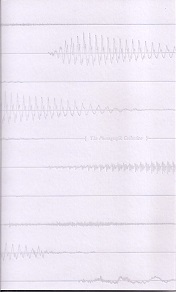 The Phonografik Collectivo


Friðþjófsdóttir, Helga Páley + Steinunn Önnudóttir (Eds.)


Drawing From Reykjavík To The Nile

a drawing journal in eight parts with contributions from Hrafnhildur Helgadóttir, Gústav Geir Bollason, Sara Riel, Karlotta Blöndal, Arnar Ásgeirsson, Áslaug Thorlacius, Halla Birgisdóttir and Helga Páley Friðþjófsdóttir, 'Drawing a line is drawing a journey, and then when you join the line for a walk there is no limit to what you may explore, you are contained only by your imagination', fascinating pictures in diverse style bound in a drawing pad format, some of the pages are folded in a way that it's hard but curious to take a look at them, metal clip binding with a cover, 21,5 x 15 cm, 60 not numbered pages, comes with a folded poster 41 x 29 cm, Reykjavík n.y.

EUR 41.-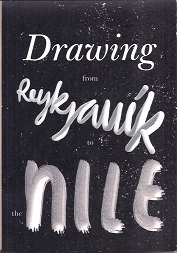 Drawing From Reykjavík To The Nile