This is BOEKIE WOEKIE, books by artists. If you have come straight to this page thanks to a search engine, click here to be taken to the Boekie Woekie home page where you can find links to our entire stock of artists' books and information about our shop/gallery.

As from Feb. 2nd, 2019 this page will no longer be updated. New books and other new items for sale in Boekie Woekie are now added to the shopping cart website www.boekiewoekie.com. Though some prices on this page may have changed, most of what is listed here is still available. Please mail your order or question to boewoe@xs4all.nl.
N
Nachdenklichlachdenknich
by Rainer Haarmann, Max Neumann, Martin Rosz: 88 postcards with the title printed on them, reworked by the artists, both sides reproduced, made with various media including pen, collaged materials, watercolours, etc, with a b/w photograph of the artists, soft cover, 15,5 x 11 cm, 188 not numbered pages, ed/725, signed by all 3, Berlin 1981
EUR 24.-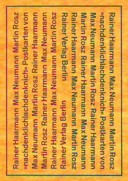 Nagtzaam, Marc
32 Pages
two booklets published on the occasion of the exhibition BORROWED SPACE at Emergent, Veurne Belgium, the first one consists of reproduced b/w drawings of two dimensional shapes and lines, one might get the feeling that the pictures are depicting strange architecture from above. The second one has black digital 3D images printed on yellow paper, they show realistic constructions but from an unusual perspective so you don't really realize the overall space, stapled, 26,5 x 20,5 cm, 32 not numbered pages, and 27,5 x 21 cm, 24 not numbered pages(yellow) Bruges (B) 2018
check the shopping cart section of www.BoekieWoekie.com for the availability of this item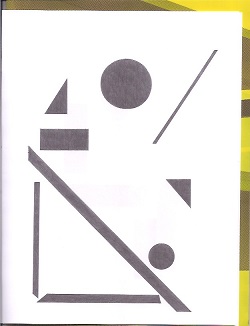 Nagtzaam 32 Pages


Nagtzaam, Marc
Reissue 1. Catalogue 2. Text 3. Index 1995-2011 128 pages + Insert
soft cover, 32 x 24 cm, 126 not numbered pages + poster,
EUR 34.-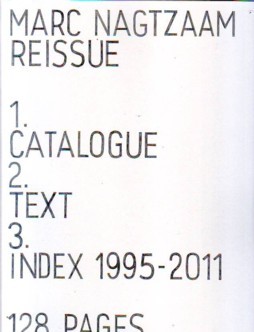 Nagtzaam Reissue 1. Catalogue 2. Text 3. Index 1995-2011 128 Pages Insert

Nagtzaam, Marc see also
AUDIO/VIDEO Picture Disc LP 33 RPM

Nakajima, Yoshio
Test Kultur
Zusammenstellung of this "Familienproduktion" by Thomas Niggl, Peter Below, Wulle Konsumkunst, book of photographs of performances of existential art, with 3 brief texts, one by Niggl/Below, the other a translation of a A.Kaprow text into German, and a epilogue by Niggl, signed by Niggl, München 1978
EUR 39.-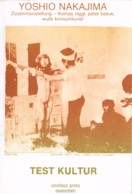 Nakajima Test Kultur

Namenlosen
compiled by Simon Cutts (here: Cuts) + Colin Sacket, numbered/130, Docking 1993
EUR 40.-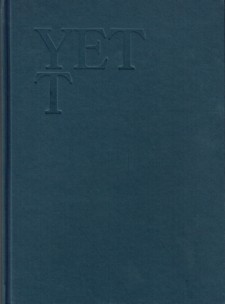 Namenlosen

Nannucci, Maurizio
Bookmakers
on the occasion of an exhibition of artists' books, with a conversation between M.N. and Gabriele Detterer, with relevant quotations by others and many pictures of artists' book covers and pages, spiral bound, 54 not numbered pages, 17,5 x 14 cm, St. Yriei-la-Perche 1995
EUR 32,50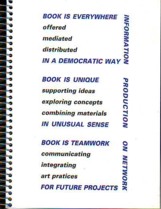 Nannucci Bookmakers

Nannucci, Maurizio
M 40/1967
soft cover, 21 x 15 cm, 180 not numbered pages, ed/1000, not signed, Amsterdam 1976
EUR 120.-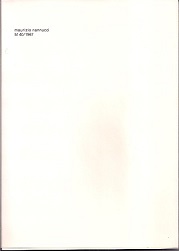 Nannucci M 40 1967


Nasonov, Arkady
Antipodes


a collection of events from all over the world and the contemplative hypotheses of a Russian student in Amsterdam, many pictures, in Russian and English, several pages can be folded out, soft cover, 21 x 15 cm, ed/500, Amsterdam 2000


EUR 30,50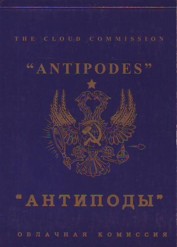 Nasonov Antipodes


Navratil, Alexandra

Brittle Land

stills from two video works using historical film footage and footage of winter landscapes respectively, accompanied by texts (two essays and a poem) in English by Paul Feigelfeld, Keston Sutherland, and Rachel O'Reilly, hard cover, 22 x 16 cm, 176 numbered pages, ed/600, Amsterdam 2016

EUR 27.-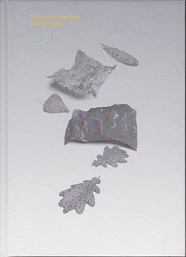 Navratil Brittle Land


Naylor, Colin
The Book Of The Sphinx
a parable of the endless, spiral-bound, 42 not numbered pages, 15 x 11 cm,ed/450, Cullompton 1974
EUR 39.-
Naylor The Book Of The Sphinx


Nearing Arcueil Sur La Route D'Arcueuil
by Erica Van Horn + Simon Cutts: photographs taken, after walking South in Paris, of a house believed by the walkers to be the house Satie lived in, but that turned out not to be so as the accompanying story tells in English and French, numbered/300, Limoges 2002
EUR 9.-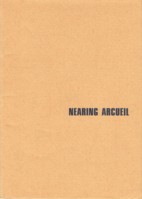 Nearing Arcueil Sur La Route DArcueuil

Nédélec, Julien
Cahier De Chantenay
stapled, 32 x 24 cm, 48 not numbered pages,
check the shopping cart section of www.BoekieWoekie.com for the availability of this item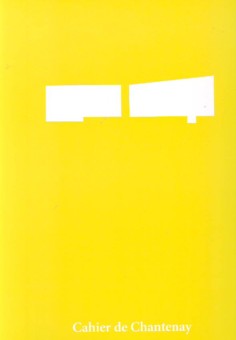 Nedelec Cahier De Chantenay

Nédélec, Julien
Leafing Through
soft cover, 19 x 11,5 cm, 46 not numbered pages,
EUR 14.-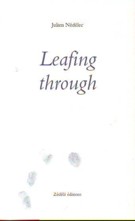 Nedelec Leafing Through

Neiman, Yehuda
Yehuda Neiman
catalogue on the occasion of an exhibition at Galleria Peccolo in Livorno, Italy, a series of kaleidoscopic photographical artworks featuring human bodies, with a preface by Angela Madesani, and texts by Pierre Restany, Gerard Xuriguera, and Yehuda Neiman, Edizi Roberto Peccolo Livorno 59, text in Italian and French, soft cover, 26 x 20 cm, 32 pages, Livorno 2007
EUR 14.-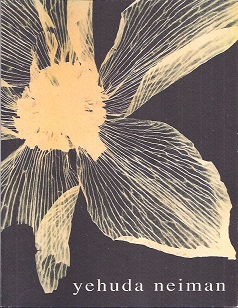 Neiman Yehuda Neiman

Nellemann, Lise
Section 1 "Echoes"
FOLDER with 16 as-if architectural drawings on loose translucent paper or "character generator diagram no.2513-2528", ed/200, Köbenhavn
EUR 45,50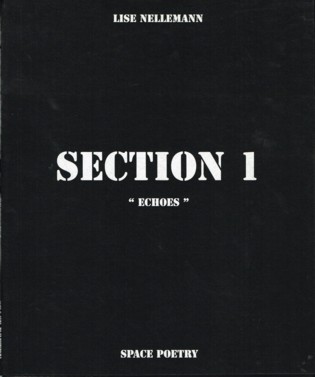 Nelleman Section 1 Echoes

Neo Nix Und NEO-MIX
by Arnulf Rainer + Dieter Roth, numbered/400, signed by both, Stuttgart 1975
(price on request)
Neo Nix Und NEO-MIX

Neptún issue #01
"Neptún is a new Iceland-based journal whose content is primarily concerned with design, architecture and the visual arts. It is published in print. The Icelandic arts scene will be the journal's main focus, but artists from anywhere in the world can and will feature in its pages on a regular basis", this very first issue features contributions by Júlía Hermannsdóttir, Alex Thebez, Kunstschlager, Ydda, Skiltamálun Reykjavíkur, Anna Hrund Másdóttir, Kristín Ţórkelsdóttir, kyrja, Laufey Jakobsdóttir, Friđrik Steinn Friđriksson, safnarar, Kólbrún Ţóra Löve, Ana Kraš, skissubćkur, Góđgresi, Elín Bríta Sigvaldadóttir, Sigurđur Ámundason, text in both Icelandic and English, soft cover, 24 x 17 cm, 178 pages, Reykjavík n.d.
check the shopping cart section of www.BoekieWoekie.com for the availability of this item


Neptun issue 01


Neptún issue #02
magazine on Icelandic art and design, soft cover, 24 x 17 cm, 160 pages, Icelandic and English text, Reykjavík 2014
EUR 16.-


Neptun issue 02

Nesi, Giulio
Tue Plus
images screen printed in 2 colours, stapled, 16 not numbered pages, 18 x 12,5 cm, (Kuttolsheim)
EUR 13,50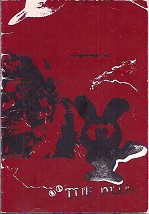 Nesi Tue Plus

Neubauer, Ursula
Gilgamesh
soft cover, 25 x 30 cm, 48 pages,
EUR 39.-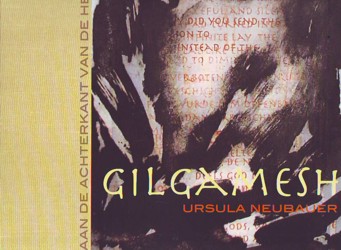 Neubauer Gilgamesh

Neumann, Esteban
Handwerker
drawings and collages showing a man performing all sorts of manual labour, even when asleep, and many wooden planks, stapled zine, 21 x 15 cm, 22 not numbered pages, ed/25, Amsterdam 2015
EUR 5.-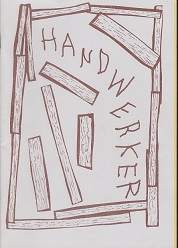 Neumann Handwerker

New Art Examiner
art magazine march 1994, cover by Emmett Williams, George Maciunas 1992, from the series "Twelve Portraits", articles on Fluxus by Hannah B. Higgins, Simon Anderson and Paul Krainak, stapled, 28 x 21 cm, 56 pages, Chicago 1994
EUR 10.-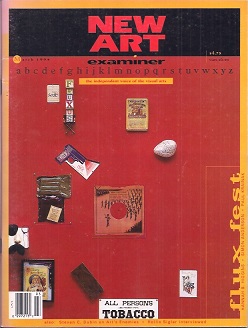 New Art Examiner




New Roles
on the occasion of an exhibition at Boekie Woekie organized by Utrecht (Hiroshi Eguchi) with b/w reproductions and/or sketches of works by Masashi Kawamura, Mitsuru Koga, Futoshi Miyagi, Tomoo Nishidate and Kotaro Inoue, 3 loose folded Din A3 sheets, 12 not numbered pages, 29,5 x 21 cm, (Tokyo) 2008
EUR 7,50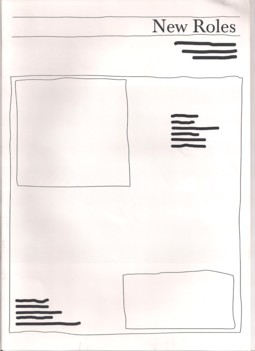 New Roles





Newkirk, Bill

Sketchbook 83

a series of reproduced pen drawings from one of B.N.'s sketchbooks, with a short afterword in English by Dieter Roth, hard cover, 22,5 x 14 cm, 246 not numbered pages, signed and numbered/400, Roths' Verlag, Basel 1988

EUR 50.-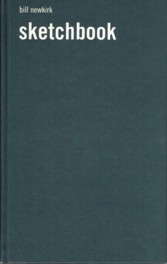 Newkirk Sketchbook 83


Newman-Saul, Eliza

Everything Is Equally Familiar

A4 folded sheet of postcard stock with 4 photographs of family holidays, divided in 4 postcard-sized sections by perforated tear lines, printed on the other side is a dense personal family history, 21 x 14,7 cm, n.p. 2008

EUR 7.-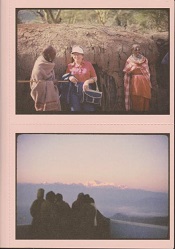 Newman-Saul Everything Is Equally Familiar

Newman-Saul, Eliza
Excess
a folded sheet (folded: 21 x 15 cm, unfolded: 42 x 59 cm) with a prose text in English on the one side and a red monochrome photograph on the other, 16 pages, n.p. n.d.
EUR 5,00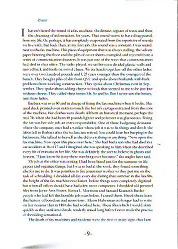 Newman-Saul Excess


Newton, James
Drawing 20 October 2005
reproduction of ink drawing, concertina format: folded 11,5 x 12 cm, unfolded 11,5 x 46 cm, ed/100, (Ashland) 2005
EUR 11.-



Newton Drawing 20 October 2005

Newton, James
Lithuanian Lines
8 photos of "lines", stapled, 8 not numbered pages, 11 x 14 cm, (Ashland) 2006
check the shopping cart section of www.BoekieWoekie.com for the availability of this item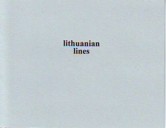 Newton Lithuanian Lines